Wooden Thumb Book Holder Was $15 | Now $5 USD + Free Shipping @ ThumbBookHolder.com *HOT!*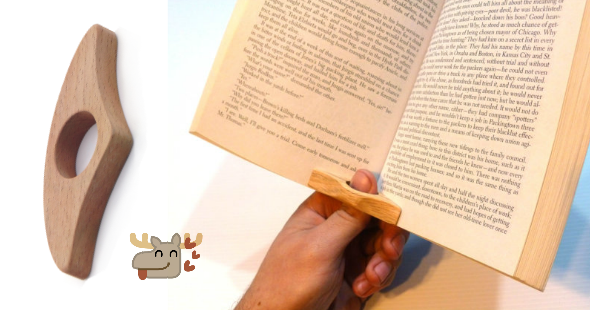 *Bump! This offer is back for a smokin' hot price!!!!*
Do you do a lot of reading? Then you are probably familiar with the hand cramp that comes from holding the book open for too long. You can get this Wooden Thumb Book Holder on sale from $14.90 USD ($20.70 CDN) down to just $4.80 USD ($6.81 CDN) right now at ThumbBookHolder.com, and that even includes free worldwide shipping.
A few days ago I wrote about the 2 pack of plastic Thumb Page Holders for just $1 from Aliexpress.com, but a lot of you may prefer the Wooden Thumb Book Holder. The Wooden Thumb Book Holder is a steeper price at $9.90 $4.80 USD for just one, but I bet it is more comfortable and will last longer. It also looks nicer in my opinion. There are even a few different colour options available if you want to get one for you and your hubby but don't want him stealing yours ;) The colours available are:
nature - pure
red
blue
green
chocolate
There are some books that I start reading and just can't put down. That is when my hand cramp gets the worst. I find myself trying to bend my hand in funny ways to hold the book open instead of tiring out my thumb. That usually results in me dropping the book, and if I am laying in bed reading then the book gets dropped on my face. Not fun! I am hoping this Wooden Thumb Book Holder will cure that cramp, which is why I added one to my shopping cart. I bought the red version, just so that it is easy to see if I do happen to drop it on my beige carpet or something.
The great thing about wooden products is that they are ecological and light. These Thumb Book Holders are even coloured with natural oil, which is the same stuff they use to colour toy blocks for kids. That means if your toddler happens to put the thumb book holder in their mouth, you don't have worry. The Thumb Book Holder doesn't even have any sharp edges, so you can easily keep it in your pocket and you won't hurt yourself.
ThumbBookHolder.com includes worldwide shipping in this purchase, which is pretty awesome. You will literally just pay for the thumb book holder and tax. You shouldn't get any duty costs when your package arrives, although it is sent via Turkish Postal Service Registered International Package. You will receive a tracking number so you can see the progress of your parcel as well.
(Expiry: Unknown)