(Up To 84% Off) Healthy Eating Cookbooks $10 & Under @ Chapters Indigo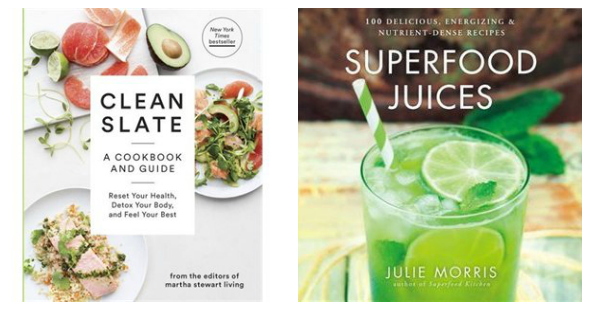 The folks at Chapter Indigo also want us to have a healthier 2016. As I was browsing today, I found a bunch of wonderful cookbooks on sale that are geared towards healthy eating or alternative diets and they're all $10 or less! Finding recipes online is great; the Internet is an endless resource for such things but I love a good, tangible cookbook. With their vibrant pictures and helpful tables and tips all in one place; you can make your own notes right on the pages and use sticky notes to mark your favourite recipes (or ones that didn't turn out so well!). But they can be crazy expensive so I love finding good ones that have been deeply discounted.
I recently bought a juicer that has - so far - been collecting dust. I had the best of intentions but when it finally arrived, I realized I didn't know what to do with it. So, I'm loving the look of SUPERFOOD JUICES by Julie Morris. It contains 100 flavourful, ultra-healthy recipes. List price for this beauty is $18.95 but it's now $10. Abigail R. Gehring's The Complete Juicer looks great, too. It's also just $10, marked down by 68% from $31.95.
At 84% off is So Easy: Luscious, Healthy Recipes for Every Meal of the Week by Food Network host, Ellie Krieger. Her show, Healthy Appetite, focuses on light and healthy dishes, for busy people, that are easy to make. This is a gorgeous hardcover (which accounts for the regular $50.95 list price) that contains 50 full-colour photos and 150 recipes. It has recipes for grab-and-go breakfasts on busy days, lunches to go, rush-hour dinners and decadent desserts that can be made in minutes. Sounds perfect and it's just $7.99.
If you're at all familiar with foodie blogs, you've probably heard of  the website Deliciously Ella. After being diagnosed with a rare illness, Ella Woodward decided to change her diet by giving up meat, gluten, dairy, sugar and anything processed (she's a stronger woman than I). Her cookbook of the same name, Deliciously Ella, contains 120 plant-based, dairy- and gluten-free recipes with full colour photographs. If you're looking to start a plant-based, clean-eating diet, this is an essential guide. At 74% off, it's only $7.99. I'm intrigued by the Sweet Potato Brownies because, to be honest, if it's got the word "brownie" in it, I'll eat it.
This is just a small sampling of the healthy cookbooks that jumped out at me. From celebrity chefs and those published by popular magazines; to the very specific (like the Paleo Bread Bible) and even some for those who think they can't cook, there's something for everyone. Most importantly - let's be real - healthier treats and desserts.
Chapters Indigo orders over $25 will ship to you for free so grab a few new cookbooks and go wild. And if you need an unbiased, third-party judge for your brownies, just let me know!
(Expires: Unknown)