Textbook Rental Coupon Codes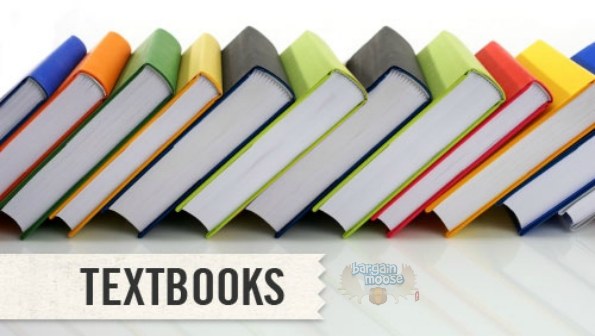 Renting textbooks can save you an amazing amount of money in university, college and during long distance education courses. We have a Canadian textbook rental round-up below with coupons to save a little extra on top.
Click here to go to Textbookrental.ca
Ambassador Code: 6994
Discount: 5% off
Expiry: Unknown
Shipping: Depends on the weight of the parcel and the distance from Toronto, free returns.
Very friendly customer service, I chatted with them regarding shipping costs via their handy dandy chat window and their availability was great (10 pm Toronto time), and they were very nice. I also discovered they have a price matching program where they will match any of their customers prices and provide the customer with 10% store credit.
Click here to go to Bigmama.ca
Coupon Code: 2012MOOSE
Discount: 5% off
Expiry: 31st July 2012
Shipping: Varies, free returns.
Standard shipping is $9.98 for the first book and $4.99 for each subsequent book to a maximum of $34.93.  Thus, customers that order more than six books receive a discount on their shipping.
One thing about Bigmama text book rentals is that they have a Semester Guarantee and 30 Day Satisfaction Guarantee.  You can combine the two guarantees so that you can order books early, get a free extension of the book rental term until the end of the semester and you don't have to worry about rental fees if you drop a class.  For example, students that ordered their books in December received an extension of their rental term until April 30, 2012 without additional charge.  If you drop a class, you still receive the benefit of the Satisfaction Guarantee and get a full refund of rental fees.
Click here to go to Bookmob.ca
Promo Code: CCMOOSESUMMER
Discount: 5% off
Expiry: 15th August 2012
Shipping: $6.99 flat shipping rate, or free shipping on orders of $150+. Free return shipping.
I have used Bookmob before and it has a great layout, and it was very easy to use. Textbook came really quickly and I got reminders close to the date I needed to return the book. Returning was simple - printed off a prepaid label and dropped off at UPS. Excellent selection of textbooks at really good prices. Bookmob also has a lowest price guarantee.
Our dear Anna had this to say about textbook rentals:
I spent such a fortune on textbooks when I went through university (about 10 years ago now)! It also felt like such a waste, because I used these books for a few months and have not looked at them since. There are about 10 books sitting on my shelf right now, which have not been opened in over 8 years. There are books on marketing, accounting, economics, management... I wish I'd known that I'd been able to rent textbooks at that stage, because it's a service I probably would have made use of.
Personally, I am still in university and these websites are a lifesaver! I have used Bookmob and it saved me $100 just on one textbook! Because of websites like these (and buying used books as well) I spend roughly 1/2 of what my fellow students do per semester.