Textbook Rental Coupon Codes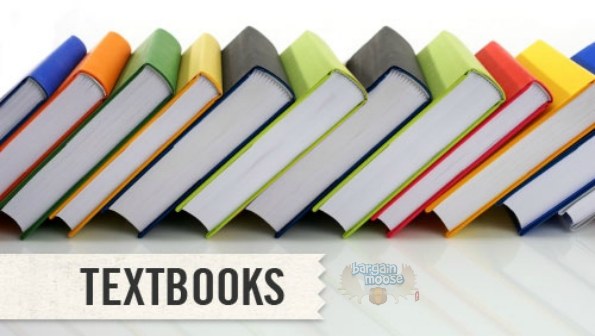 Renting textbooks can save you an amazing amount of money in university, college and during long distance education courses. Here are a couple coupons to help you save a little extra on your textbooks this year.
Click here to go to Bookmob.ca
Promo Code: CCMOOSESUMMER
Discount: 5% off
Expiry: 15th August 2012
Shipping: $6.99 flat shipping rate, or free shipping on orders of $150+. Free return shipping.
Bookmob.ca is where my big score came from this year: they had almost everything! I got 10 books from them for my fall semester... I felt like a thief they were so cheap! The flat rate shipping is a god-sent and really, I was most pleased with this order!
Click here to go to Textbookrental.ca
Ambassador Code: 6994
Discount: 5% off
Expiry: Unknown
Shipping: Depends on the weight of the parcel and the distance from Toronto, free returns.
I picked up two textbooks at Textbookrental.ca this year. They are saving me about 30% on buying them, and at the end I don't have to fight with the university about book buybacks. I just send them back with my pre-paid shipping label.
The other biggy for Canadian textbook rentals is BigMama.ca, however, I have been unable to find any coupons for that website lately.
- - -
Now for the news of how my Fall 2012 semester is looking textbook wise.
To buy all my books for this semester (14) from my university bookstore would have cost me: $435.07 (including GST).
What did I pay?
2 books from textbookrental.ca = $32.55 (used some credit so that helped)
2 books from BetterWorldBooks = $20.35
10 books from Bookmob.ca = $65.38
Total I paid for my Fall 2012 semester books = $118.28 (including GST).
Even without the credit on my account, my total fall book purchase would have been under $200. The two from BetterWorldBooks I get to keep, the rest I send back at the end of the semester. I like using a combo of textbook rentals, and buying used textbooks cheap like I mentioned in my post here.
Already my semester is looking bright, how is yours?