Magazine Deal: Subscribe To 12 Issues Of The Economist For $15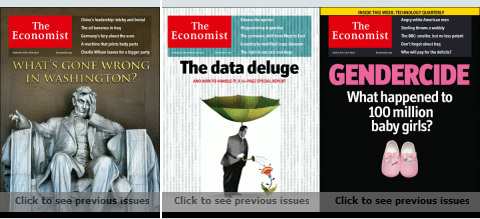 Here's a deal for those of you who like to read a higher brow publication, The Economist!
Click here to order The Economist subscription
Coupon Code: CGK21
Deal: 12 issues for $15
You can subscribe to 12 issues of the Economist for only $15. As it comes out weekly, you would be getting it for about a 3 month period. You can cancel when the 3 months is finished, at which time it will go up to a higher subscription cost ($36 every 3 months thereafter - so try and remember to cancel).
The cover price of the magazine is $7.99, so if my calculations are correct, you will be getting about $96 worth of magazine for only $15!