Kobo Books Canada: $0.99 Magazine Issues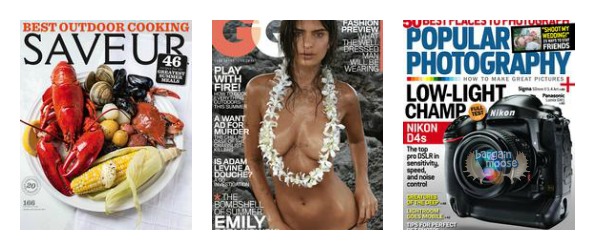 Kobo has a hot (sizzling even) deal on right now, where you can get one issue of a number of magazines for only $0.99. I love this deal because sometimes you just want some summer reading on the easy, and one issue is all you need. Paying less than $1 for an issue of a magazine is very sweet.
There are a number of magazines available for this promotion, and I'd like to pick up a few of them. I'm an avid magazine reader, although I still go the print way, but really I don't know why. I can save so much money getting it on my tablet, plus save the environmental costs of printing it. Plus, I don't have that extra clutter of the magazine lying around. I can also take my tablet with me and choose what I want to read, rather than a bulky magazine that I might forget (and always do). I don't know how many times I've been at the park with my kids while they play wishing I had something to read instead of staring into nothingness.
Some of the ones I'd like to sink my teeth into include:
Bargainmoosers, what is your favourite magazine? Give me some ideas on what issues I need to get for $0.99, just in case the ones I've chosen aren't enough!
(Expiry: Unknown)