Eharlequin Coupon Code: Buy 1 Get 1 Free!
Eharlequin has just emailed me a new coupon code which will not be available to the general public until Wednesday. Here are the juicy details: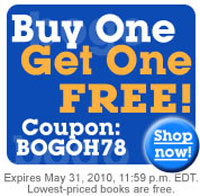 Coupon Code: BOGOH78
Discount: Buy 1 get 1 free
Expires: 31st May 2010
I tried the coupon code out on their "books on a budget" range, which are already discounted by 40% - and it worked on those too!
Remember, Canadian shipping is free if you spend $25 or more, and they have a Canadian dollar checkout.