Downpour Audiobooks: Get ANY Audiobook For $6.95 w/Coupon Code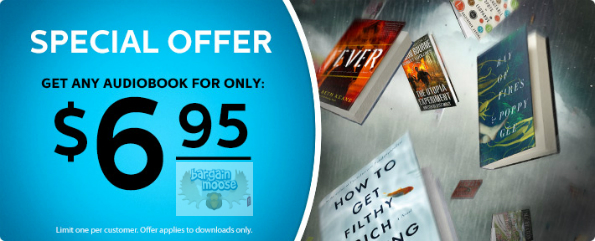 Nothing makes a company look better than standing by its products and that is exactly what downpour is doing with this deal! Get ANY Audiobook for $6.95!
Click here to shop for Audibooks @ Downpour.com

Coupon Code: ANY695
Discount: Get Any Audiobook for $6.95
Expiry: Unknown
Here are a few books that you can save a lot on with this deal! It should be noted that it is for downloads only.
Elantris by Brandon Sanderson - Was $39.99 - Save $33.04 - Now $6.95
Christine by Stephen King - Was $49.95 - Save $43 - Now $6.95
The Burning City by Larry Niven and Jerry Pournelle - Was $24.95 - Save $18 - Now $6.95
I really do like that they are standing behind their products. I think audiobooks have a bad reputation and this goes a long way to getting people into audiobooks. Personally I don't read any book unless it's in audio format. I can listen in the car, while doing chores or while shopping. Any place you would usually be unable to hold a book, you can read with an audiobook.
For more deals like this check out our Downpour Coupon Code page.
(Expiry: Unknown)