Chapters Indigo: Great Scott Wrap Was $72 | Now $28 & Free Shipping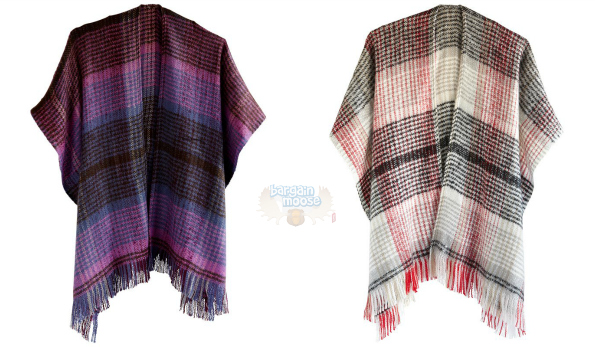 Chapters Canada has discounted the warm and cozy Great Scott wrap by Echo Design Group from $72 down to just $28. As the wrap costs over $25, it will also ship for free to your home.
There are two colours to choose from red or purple. This is a traditional drape scarf in a lovely pattern. The 'red' is actually primarily white, grey, and black with red highlights throughout. This is my favourite colour as the black and white primary colours make this a more versatile piece than the plum. The plum truly is purple, with blue, black, and grey tones throughout as well. The pattern is a classic 'scottish' plaid.
These wraps are designed to keep you warm during the winter, but they also work well for cool summer evenings and cold spring days. There is a lot of this scarf to curl up in as well. The wrap measures 72" long by 17" wide. To put that in perspective, the scarf is 6 feet long! That is the height of my father and positively dwarfs my short frame. Because this scarf will be draped over your shoulders, the length will cover a good portion of your body. This is the perfect wrap to curl up with while watching TV or Facebooking late into the night.
Both wraps are made of acrylic and care instructions suggest dry clean only. I find that most dry clean only items can be hand washed in a sink (cold water only) and then laid out to dry. I am not sure if you could do that with this scarf, but you might want to try it if the thought of a dry cleaning bill does not make you happy.
I checked out the manufacturer's website, where similar Great Scott wraps retail for $68US. Chapters Indigo's price is certainly the best. Now, there are no reviews for the scarf right now. So, if you own one of these scarves, please leave a comment sharing your experience and thoughts with other Moosers.
Thank you to Mooser Felicia for posting this deal in our Bargainmoose forums.
(Expiry: Unknown)