Chapters Indigo: $11.40 Adult Art Books (Up to 48% Off)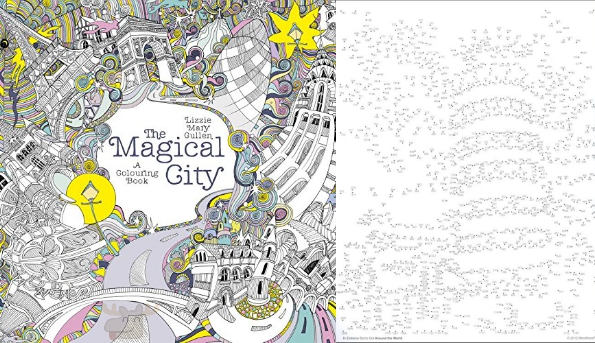 Adult colouring books are becoming popular modes for adults to express their creativity while finding another way to relax in this hectic world. Currently, Chapters Indigo has discount a couple adult books, including one colouring book and one connect-the-dot book, down to just $12 without Plum Rewards and just $11.40 with Plum Rewards. I assume all our Moosers have Plum Rewards by now as the program is free and the savings is worth it. 1000 Dot-to-Dot: Cities was $19.95 but is now only $11.40. Next, The Magical City: A Colouring Book was $21.99 but is now only $11.40.
All good deals start and end with price comparisons because that is where we reaffirm our hunch that this is a really good deal. I price compared both these books with Amazon Canada as Amazon is the other major online book retailer. At Amazon, 1000 Dot-to-Dot: Cities currently costs $16.48, which is just over $5 higher than Chapters. The Magical City: A Colouring Book costs $15.87 at Amazon and $17.20 at Book Depository.
Indeed, Chapters Canada has the best price on these adult art books. With the popularity of adult colouring books on the rise, I figured this was a great deal for those just getting into them or looking to expand their current collections. Adult colour books differ from children's in the level of detail in each picture. The pictures tend to be extremely complex with plenty of tiny little spaces for those who have already developed their fine motor control. This is true of adult 'connect-the-dot' books: there is a high level of complexity that children cannot master but adults can.
Just to note, The Magical City: A Colouring Book is a pre-order as this colouring book will not be released until mid-October. However, you can lock in the discount now and it will ship when Chapters receives the book.
I also wanted to mention a new discount on Fantastic Cities: A Coloring Book Of Amazing Places Real And Imagined. This book is discounted from $19.95 down to $14.25. While it is the same price at Amazon right now, you may want to drop it on your cart to reach the $25 minimum for free shipping.
By the way, if you need some pencil crayons for your new art books, I totally favour these 50 50 Pencils for just $12.
(Expiry: 21st August 2015)