Chapters Indigo Canada: 20% Off Gaiam Yoga Accessories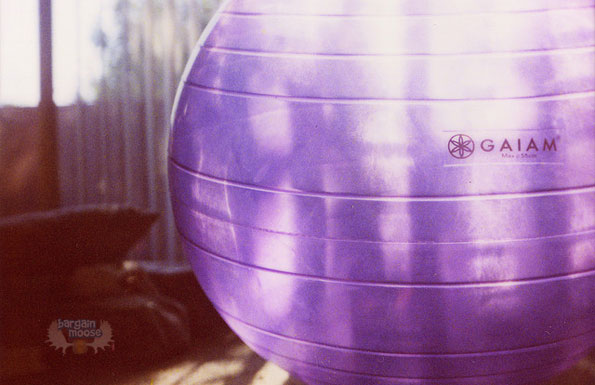 Looking to get fit? Chapters Indigo has a great discount on Gaiam accessories: for a limited time, you can save 20% on Gaiam merchandise like exercise balls, gym bags, water bottles, yoga mats and more!
It's not optional anymore; I need to get fit, but having just had a baby recently, it's rather difficult to schedule time to hit the gym, especially since the one right next to my place doesn't have any kind of daycare in place. As such, I have been looking into home fitness and Chapters' sale on yoga accessories is definitely tempting, especially since prices are lower for these Gaiam products than anywhere else.
With Chapters' sale, there is definitely plenty to choose from but it's the Gaiam 3mm yoga mat that caught my eye.It's a reversible mat in 2 colours: teal and green (there is also a grey/ navy combination available for the same price), and it's perfect for those of you looking for a simple mat, perhaps even for doing light exercises. Even better is that it contain zero latex, and according to the description, is also "free of the six most harmful phtalates". No word on which ones they are referring to but it's still somewhat reassuring nonetheless. It's on sale for $15.99 (reg. $19.99), which is surprising because even the regular price is cheaper than anywhere else. I found similar yoga mat, but in different colours, at Walmart with most retailing for about $30 and a couple of out of stock ones for $21.86. Same goes for Staples, where they are all $30 as well.
I also really like the Gaiam chai metro gym bag on sale for $27.99 (reg. $34.99). It has large snap button and can be zipped all the way closed to ensure that nothing falls out. Plus, it can even be machine washed! As this reviewer noted, you can also use it as a diaper bag:
This is a wonderful bag. I am currently using it for a baby bag and its the perfect size. I would recommend this bag to any one!
The cheapest I have found it anywhere else is at Future Shop for $29.99, which makes it even cheaper at Chapters, but I have actually also found it for $39.99 at Well.ca! There are plenty more Gaiam products to choose from as well.
At Chapters Indigo, shipping is always free on orders over $25.
(Image Credit: Jbhalper)
(Expiry: 19th August 2014)