A Celebration of Canadian Authors for Canada Book Day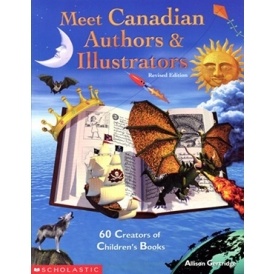 Earlier this month, we published an article for 'Children's Book Day', which fell on April 2, 2016, about some of our favourite Canadian kids' books. Did you celebrate by reading some of these books with your child(ren)?
With today, April 23, 2016 being Canada Book Day, it got me thinking... how can we find out more information about some amazing Canadian authors/illustrators?
Meet Canadian Authors and Illustrators, written by Allison Gertridge, is a book that will do just that. It is sold at Amazon.ca (for under $8.) The book showcases 60 great Canadian children's books authors and illustrators by way of interviews, photos, book titles and awards information. This Scholastic book is for ages 10 and up and even offers young authors some hints and tips on becoming an author.
The majority of Canadian children have grown up with Robert Munsch and Barbara Reid books, both of these well-known authors/illustrators are featured in the book and I know my children and I will find it very interesting to discover more about the Canadian authors that we know and love. This will provide deeper insight into the authors who have made Canadian children's books such a great family tradition in households—past, present, and future... After all, maybe your own child is a budding novelist!
What about Canadian reads for your own reading pleasure? Parents deserve a reading break, too!
Did you know Alice Munro was the first Canadian female to win the Nobel prize for Literature? Munro was told she would never succeed writing only short stories but she proved the naysayers wrong.
Lawrence Hill won 'Canada Reads' award recently, with his novel, "The Illegal."This is a riveting novel that develops when the main character, Keita Ali discovers a good deal about people who don't exist on paper. Hill is probably most well known for his novel, "The Book of Negroes" - that novel was so popular it was made into a mini-series for TV. He also won the following awards on this novel, so it is well worth checking out.
Governor General's History Award for Popular Media: The Pierre Berton Award
Selected for the National Post's 99 Best Books of 2015
Selected for the Globe and Mail's Best Books of 2015
Selected for CBC's Best Books of 2015
CBC's Canada Reads 2016 - Winner (mentioned above.)



Speaking of Pierre Berton, (awards, mentioned above) he was the author of my favorite book as a child. The book is titled "The Secret World of Ogg." I would check out the book out over and over again from the Public Library. It was always such an immersion into a whole different realm of reality. I made it a point for my to kids read the book with me, and they also enjoyed it immensely. If you have never read this book with your child, I hope you take a look at it!
Margaret Atwood, Marina Edicott, and Kim Thuy are also three great Canadian authors—they all have recent releases available for sale, online, and in store, if you are seeking more great Canadian reads for your library!
Once again, shipping with Amazon.ca is always free with purchases over $25. I would recommend purchasing a couple of the books suggested, to be able to have free shipping on your order.

(Expiry date unknown)