American Apparel Black Friday Up to 92% Off & Extra 50% Off Sale *HOT*
25 November 2015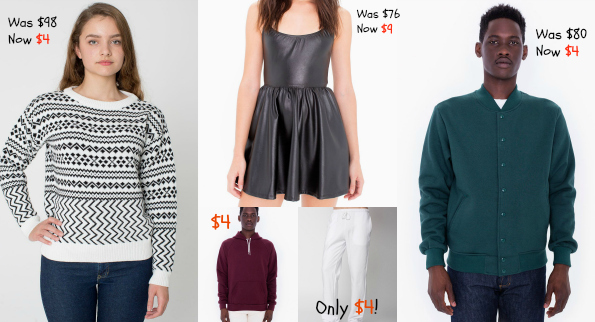 American Apparel Canada has a super-hot Black Friday deal on right now. Shop the sale section for up to 92% off clothing and accessories. On top of that, use the coupon code below for an extra 50% off your order! There are truly breath-taking deals at American Apparel right now that you do not want to miss.
Click here to shop the Black Friday Sale @ American Apparel Canada now
Coupon Code: TKITOFF
Discount: extra 50% off sale
Expiry: 29th November 2015
You must either a) sign up for an account at American Apparel or b) be signed into your account at American Apparel to use this coupon as this is a pre-access deal for members. The hottest deal has to be on the Patterned Ski Sweater that was $98 and is now only $8! Use the coupon code above and get this sweater for $4.

This Classic Pullover Hoodie was my next big find and it is available in more sizes in the colour truffle (only). In the colour truffle, there are still all sizes except XXL available. Originally $68, this sweater is now only $8. After coupon code, pay just $4 for a new American Apparel Hoodie MADE in the USA.
Following along the theme of layering up, this Flex Fleece Club Jacket was $80 and is now $8 in cranberry or green. You know what that means; it comes down to $4 after coupon. This is an even better deal than the pullover and the sale applies to two colours.
Personally, i have enough jackets and hoodies to last me a lifetime but I always seem to be short on pants. The California Fleece Slim Fit Pant was $50 and is now on sale for $8 - coming down to $4 - in white only. Also, this price applies to sizes small through large (extra-large costs more).
Those four are the best deals in my opinion but there are other solid deals as well. This Houndstooth Mid-Length Pencil Skirt is on sale from $48 down to $14. After coupon code, pay $6.50. All sizes are in stock.
This Vegan Leather Figure Skater Dress is also a hot score if I do say so myself. Originally $76, this gorgeous dress is on sale for $18. After coupon code, pay just $9.
Receive free shipping on orders of $60 or more. Some items may ship in from the USA but all American Apparel clothing is made in the USA, this it falls under NAFTA. There will be NO duty charges whatsoever. I have ordered from them many times without problems.