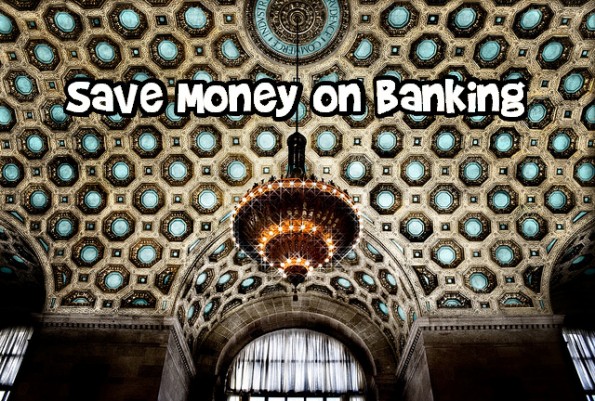 Without us knowing, banking fees can really eat up our monthly and annual budget.  According to Canadian Living, Canadians spend an average of $185 a year on banking fees, which is more than the average family spends on going out to the movies ($171).  Now, wouldn't you rather watch double the big screen flicks and spend less money (or hopefully zero money) on banking?
Personally I would rather watch more movies on the big screen or spend that money with something more purposeful than giving money to the bank.
Apparently, most people do not realize that they do not have unlimited banking transactions.  A lot of us do not review or understand our current banking package (I know I don't, to be honest- I don't know exactly how many transactions I am allowed but I know that I don't go over the allotted amount).
Stick To Your Own and Visit the ATM Less Often
By stick to your own, I mean using ATM's that are your bank.  Every time you go to another bank's ATM machine you get dinged at least $3-5 for your being disloyal.  These fees add up over time and really break your monthly budget (unnecessarily, I might add).   Also, if you are charged each time you use the ATM, a very simple way to reduce your banking fees is to visit the ATM less often.  Financial Plan agrees, visit the ATM less often to save money.  Personally, I only go to the ATM every two weeks when I get my paycheque.  I use my credit card for most things and carry very little cash with me.
Avoid the Teller Like the Plague
Although the tellers and customer service representatives are really nice and friendly, using them to withdraw your money may necessitate unnecessary service charges to your account.  In this case, unlike MacDonalds fast food restaurants, smiles are NOT free at the bank (well not usually anyways)!  I personally do not go to the teller for anything unless absolutely necessary, like ordering a money order or getting a bank draft or something.
Minimum Balance It
Of course, at a lot of banking institutions if you keep a minimum balance in the primary account they will reimburse your monthly banking fee.  I see that they reimburse my fee each month otherwise, it will cost me $9.95 each month for the banking package I have.  If you are strapped for cash, you can also use your minimum balance amount as a form of emergency savings too.  This will motivate you to try and keep the minimum amount (usually $2000 to $3000) in your account.  If you do need to dip into it you will be motivated to save your money so you don't have to pay the monthly fee again.
Try No-Fee Banking
Finally, one very easy way to eliminate all chance for cost and all chance for going "over" your budget for banking (e.g., making too many ATM withdrawals) is to go to a no-fee banking account.  This comprehensive websites by nofeebanking.ca has a great list of no-fee chequing accounts and no-fee savings accounts that will not cost you a dime.  One of the most popular ones is the President's Choice Financial banking account and also the Tangerine (previously ING Direct) Thrive Chequing account.  The great thing about both of these accounts is that you can use the ATM's of big banks like CIBC for example (for PC Financial).
Personally, I think that saving money on your monthly banking fees and expenses is one of the easier things to do to reduce your monthly budget.  It may take a little bit of time (for example, switching to a no fee provider such as President's Choice Financial would entail you filling another direct deposit form at work and switching any other automated payments) but it is well worth it in the long run.  And you will only have to think about it once.
If you're interested in looking at other ways to save money on banking, check out last year's post on saving money by avoiding banking fees for more tips on how to save money on your banking budget.
Bargainmoosers, do you pay for your banking?  How do you save money on your banking fees?
Photo credit: Billy Wilson