MBNA Sony Mastercard: Extra 10,000 Sony Points ($100 Value) (Expired)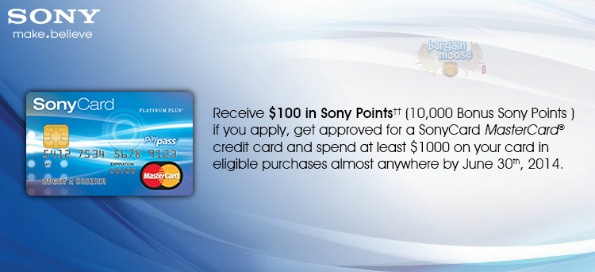 MBNA has a Sony MasterCard promotion that gives you 10,000 points worth $100 after you spend $1,000 in eligible purchases by June 30th, 2014.
There is NO annual fee for this credit card. The Sony Card earning system works like this:
2 points per $1 spent on eligible purchases at SonyStyle.ca and in Sony stores
1 point per $1 spent on all other eligible purchases
10,000 BONUS points after $1,000 of eligible purchases with your Sony Card
BONUS points on every $1 spent on eligible purchase using your card at SonyStyle.ca and in Sony stores during special bonus point events
You must apply for your credit card by the 31st of March 2014 to be eligible for the bonus Sony points.
Your 10,000 Sony Points you can redeem on purchases at The Sony Store online. Use your $100 worth of points to get half off the PS Vita (Wi-fi) from Sony. If you are eying up the new PS4 you could also apply your points to get $100 off that new gaming console when it is back in stock.
Now, credit cards are best if you don't abuse them. Always pay them off in time and never incur interest charges. That way you can borrow without any penalty and in many ways make money off your credit card. That is the smart way to use a credit card.
(Expiry: 31st March 2014)