Burger King Canada Coupon: Save $1.50 On Bountiful Burgers!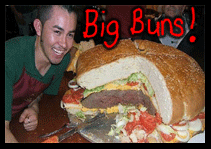 Yums! Burgers! The "American Sandwich!" This free online coupon is valid with regular-priced adult value meals, and gets you a $1.50 discount off the price of each one purchased.
You can get a hold of and print out the coupon from this Burger King page here, until March 11th, 2009.
This free coupon is given to us courtesy of the VisaPerks website, and of course you have to use your Visa card when you make your purchase.
Did you read about the "Burger King Whopper Virgins" recently? It's a bit of a strange story… the BurgerKing marketing team went round the world to find people who had never eaten a hamburger, or been exposed to McDonalds or Burger King advertising… like in Romania or Greenland. They gave these "burger virgins" a Whopper and a Big Mac to see the reactions. Some people didn't even know how to pick up a hamburger.
The whole thing has created some publicity for BK… which I'm not too sure if I like or not. The blogosphere has kind of taken offence to the whole campaign, as Chris wrote here on the Businessethics blog.
Are you a Whopper or a Big Mac lover?
Thanks sinevil2.