AVG: Get 40% of AntiVirus or Internet Security 2014 when you Pay with PayPal!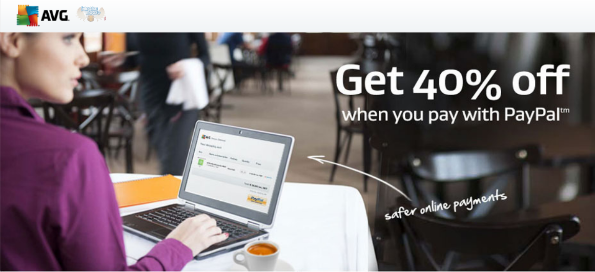 Get AVG Anti Virus 2014 or Internet Security 2014 for 40% off when you pay with PayPal!
You have the use the above link to get the deal.
PayPal has been doing a lot of these deals lately. Get a percent off or some cash back when paying with their service. I think this is the biggest product discount I've seen them offer.
They're offering the discount on a fantastic product though. AVG was the first really popular free anti-virus program. People flocked to the program because, up until then, the only players in town were Norton and McAfee. Of course there were other free ones and other paid ones but that was kind of it. I remember people were just amazed that someone was offering a free  anti-virus program.
Of course they needed to make some money so they are offering up a paid version with more protection. This is the version, AVG Anti Virus 2014, that you can buy here for $23.99 (was $39.99, save $16) or you can get a bit more protection with AVG Internet Security 2014 for $32.99 (was $54.99, save $22) if you feel like a little more. Remember though, you only get the deals when you pay with PayPal!
These are digital downloads so there is no shipping.
(Expires: Unknown)