AMEX: 5% Cash Back with SimplyCash Card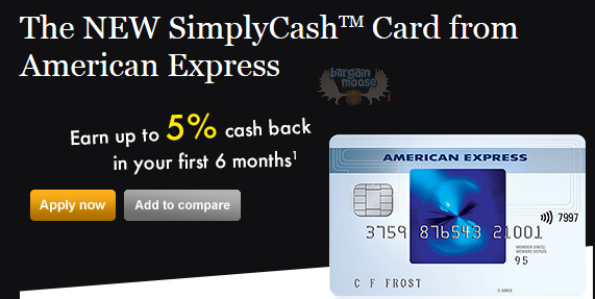 American Express is offering 5% cash back on select purchases for the first six months with their new SimplyCash card. After the first six months, you will still receive 1.25% on all your purchases. The card requires no annual fee. This is the highest cash back card I have seen, so it may be the time to apply for a new credit card!
For the first six months of owning your card, you will receive 5% back (up to $250 maximum) at gas stations, grocery stores, and restaurants in Canada. On all other purchases, you will receive 1.25% cash back. After the promotional period is over, all purchases will receive 1.25% cash back. While there is a $250 limit on the bonus cash back, there is no limit to the amount of regular cash back you can earn in a year.
This card comes with no annual fee and there is also no annual fee for supplementary cards. The annual interest rate is 19.75% on purchases and 21.99% on funds advances. Of course, you never want to pay this interest rate so you really should pay off the balance of your credit card each month to avoid unnecessary fees.
Cash back rewards add up quickly. At just 1.25%, you can expect to earn the following cash back yearly when your monthly spending is as follows:

Of course, that calculation does not take into account your first six months where anything you buy at grocery stores, gas stations, or restaurants will receive 5% cash back. Your first year's worth of cash back should be much higher. I do not eat out a lot, but grocery store and fuel bills always seem to add up. Though, I must say, I am grateful for the lower fuel prices - buying premium doesn't make my wallet scream quite as much anymore.
I wanted to blog this deal because 5% cash back, even for six months, is the highest cash back I have seen on a credit card. In addition, 1.25% during the rest of the year is quite good as well. My own credit card only receives 1% cash back.
To be eligible for this credit card you must be an adult, have a personal income of $15,000 or more, and have not filed for bankruptcy in the last seven years. For full details and to apply for the new SimplyCash AMEX card, please see their website.
(Expiry: unknown)