Save Money Organizing For Back To School
26 August 2015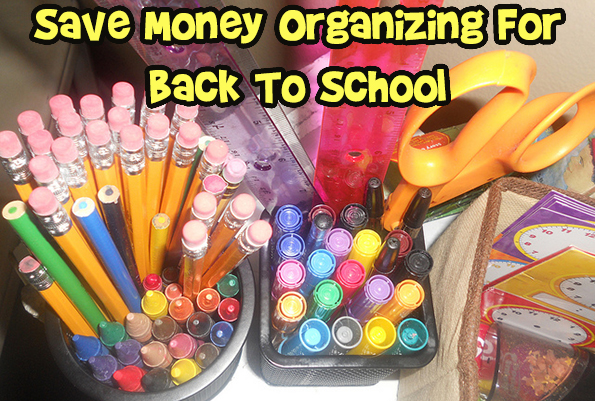 Sometimes it takes me the entire month of September to get back on track to get organized and ready for back to school.  Sometimes it just takes me a week or two.  No matter the amount of time it takes for you to get you and your family organized for back to school,  organizing for it is a necessity for a productive and happy school year.  There are great ways to get organized, and most of these do not require that you spend a fortune to do so.
Here are some ideas and way to save money while you are organizing for back to school.  Many of these are do it yourself projects and do not require expensive supplies.  In fact, most of these supplies can be picked up at your local dollar store.
Magnetic Lunch Chart
This great idea from the Martha Stewart website is a fantastic way to get your children involved in their weekly meal planning.  This will likely reduce the chance that they will swap their lunch or not eat their lunch because they are the ones involved in decision making (well, one hopes, anyway!).  All you have to do is download the template and print it on magnetic paper.  Another added bonus is that it makes grocery shopping easier because you have the week planned out.
Set up a Craft Closet
Arts and crafts necessities such as pens, pencils, crayons, scissors, glue, felt markers, scrap paper and construction papers tend to adhere to Murphy's Law and create a big mess in your home.  Laura's Crafty Life has a great idea to use a clear shoe organizer to store the arts and craft supplies so that they are easy to spot and easy to access.   Shoe organizers are very cheap and are usually under $10, and $10 for peace of mind and organization is well worth it, in my opinion.  I am a big fan of shoe organizers behind the door, but mine is filled with shoes rather than arts and crafts for now.
Backpack Central
Another great idea is to create a back pack central area (much like the cubby holes and jacket and backpack area that your child has at school).  This idea from Pinterest incorporates your children's names, a cork board, and a list of chores or homework that they need to do that evening.  It's a great way to regroup and refocus once they return home from school.  It might also make mornings a little more manageable because things are organized and in the right spot!
Create a Command Central
Another great idea from the Martha Stewart website is to create a command central.  This is where all the schedules are, where the calendar is kept, and where the organization is at its finest.  A check list for each child is helpful and encourages your children to set goals for themselves, mark their checklist and feel like they accomplished something.  It is also a great way for them to develop skills to get organized.  Another reason this is a great project idea is that all the stationary essentials are easily accessible and visible, you'll be replacing less things that get "lost" all the time.
Mason Jar Organization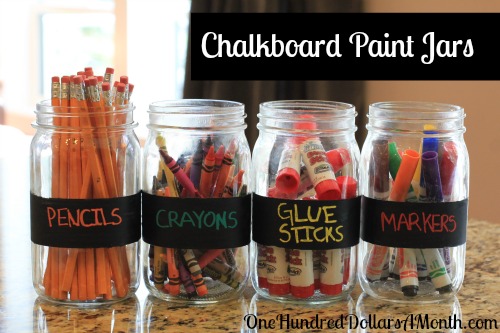 Mason jars are beautiful and very reusable.  This great idea from the One Hundred Dollars a Month blog teaches you how to create cute mason jar holders labelled with chalkboard paint to keep your children's pencils, crayons, and other stationary organized.  Not only are these jars functional, they are beautiful to look at and super easy to make.  All you need are mason jars, chalkboard paint, and some chalk.
Back to University Apps
For those of you who do not have children, but are going back to school, CBC has a great list of apps that are free but are great for back to school.  My personal favourite for organization is Dropbox.  It has saved me from a ton of clutter and it is free.  Here are five free cloud computing services to consider if you're not a fan of Dropbox but are in need of some organization.
Bargainmoosers, do you have other DIY organizational tips for back to school?
(banner image credit: Lyn Lomasi)
More Back to school