Office Depot Coupon: $15 Off $75!!!
5 July 2009
Just a quickie post here to show you guys this handy Office Depot coupon. Up to the 8th of July 2009, you can get a $15 discount on a $75 spend in-store. Not too shabby!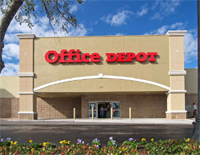 Sadly, the Office Depot coupons exclude technology items, so you can't use them to buy monitors or printers or anything. But I think they're handy if you were perhaps buying some Office Depot furniture, like desks or chairs, then this free coupon would be perfect.
More Back to school