Win An iPad Or Bumbleweenursing $100 Gift Voucher (Bargainmoose 2nd Birthday)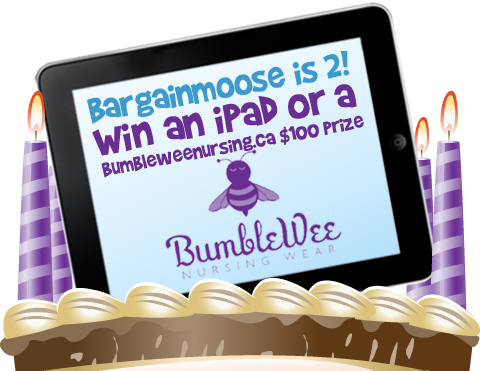 *** EXPIRED ***
Today's giveaway is from bumbleweenursing.ca. They're offering a $100 gift voucher to one lucky Bargainmooser, and you can spend it on any of the promotional items on their site. They're also offering all the Bargainmoosers a coupon code for a whopping 50% discount for any of the items in the sale category!
Click here to see the deals @ Bumbleweenursing.ca
Coupon Code: BIRTHDAYMOOSE50
Discount: 50% off promotions category
Expires: 15th September 2010
Remember that if you enter today's contest, you will also get a bonus entry into the super iPad contest! Check back with us daily for more contests and more chances to win that iPad! I also noticed that on the Bumbleweenursing site itself, they're giving away a free nursing top every day, for 30 days.
How to enter today's contest: Click the above link to bumbleweenursing, have a look around. Then come back here and leave a quick comment below stating something that you would spend your $100 voucher on. Make sure you leave a valid email address so I can contact you if you win.
How to get bonus contest entries:
Rules:
Ends 20th August 2010
Canadian entrants only
One entry per household
All winners announced at end of iPad contest