The Honest Company Diaper Bundles From $91 & Sale Items From $2 @ Well.ca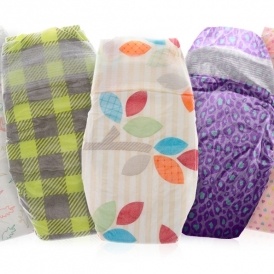 If you are expecting, or already have a bundle of joy, and cringe at the thought of using disposable diapers, you may feel better about the diapers from The Honest Company! For a limited time, or while supplies last, Well.ca has some huge discounts on The Honest Company products and diaper bundles. This is a great way to get started at just a fraction of the original cost. The bundles start at $91.99 (previously starting from $139.93) and have everything you'll need for keeping baby's bottom clean and chemical free. Plus you can get up to 20% off other products by The Honest Company at Well.ca right now so sale items start at $1.99.
The Honest Company Diapers are made with naturally derived, plant-based and sustainable materials. These diapers are disposable, yet soft and hypoallergenic as well as chlorine-free and they have super cute prints, too.
The Honest Company has Diapers & Wipes Bundles for newborn, size 1, size 2, size 3, size 4 and size 5. Your best bet is to buy the bundle, but you can buy individual diaper packs and accessories as well if you prefer. Here are the bundles and prices:
These bundles sell for much more at other Canadian retailers, even on sale. For example, the Size 4 and Size 5 bundles are $129.99 on sale from $144 @ Snuggle Bugz. The Size 1 bundle is on sale for $139.99 down from $161.89 @ Shop.ca.
The Honest Company also has a ton of other useful items - like all natural house cleaning supplies. Keep your baby safe from chemical's harm with these products. I can also vouch that they work great and your friends and family will be asking where you got a cleaner that smells like that. The Honest Company Honest Bathroom Cleaner - Eucalyptus Mint is one of my all-time favourites. It is $8.99 for the bottle but this is the best price around for sure. Pair it with The Honest Company Honest Window & Glass Cleaner for a sparkling, streak free mirror (and windows throughout the house of course). This stuff is the same price.
Well.ca offers free shipping on orders over $29 - so with these The Honest Company Diapers & Wipes Bundles, you won't have to pay anything extra for shipping and handling.
So moms - disposable or cloth diapers? Pick your poison!