Summer Infant Sharp Sights Video Monitor $160 + Free Shipping @ Best Buy!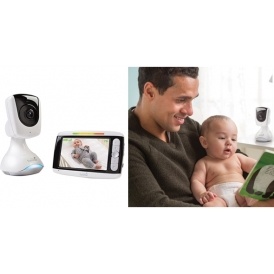 *Bump: Best Buy has dropped the price by another $20 for today only!*
Baby monitors are pricey and video baby monitors even more so. This Summer Infant Sharp Sight Video Monitor System from Best Buy is high-quality and high-tech. It's also $100 off until March 3, making it just $179.99 $159.99.
We paid about $100 for our monitor and... It's terrible. It really is. I noticed while researching and shopping for it, reviews for most monitors vary wildly for some reason; it was rare to see one with a positive consensus from all ratings. But this one from Summer Infant has pretty great feedback!
The system consists of a good size (4") monitor screen with a solid 800 x 480 resolution display (it won't be as clear and vibrant as your smartphone but those are good specs for a baby monitor!). It has the necessary night vision, 2-way audio for soothing baby or letting your partner know you need something, a remote zoom function and a room temperature indicator. The camera can sit on a table or dresser or b mounted on the wall and the system can be expanded to up to 4 cameras, if you so choose.
This is definitely the lowest price I was able to find on a monitor of similar quality and features; in fact, it sells for $200 US at a lot of American retailers. So if you're in the market, this is a great deal! And Best Buy will ship the monitor system to you for free!
(Expires: 3rd March 2016)