Philips Avent Comfort Double Electric Breast Pump Now $180 (Was $300) @ Babies R Us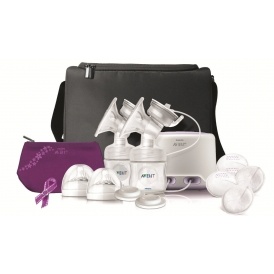 Before I had kids, I never truly realized how expensive breast pumps can be. I always though breast feeding would be more affordable among having many other benefits. Turns out, getting started with breast feeding can not only be difficult, but also expensive. Thankfully, you can get this Philips Avent Comfort Double Electric Breast Pump on sale for quite a bargain at BabiesRUs.ca right now. It was originally $299.99 and is on sale for $199.87. There is also the coupon code BRCFEB which will get you an extra $20 off. You'll pay just $179.87 for this breast pump!
I wanted to save money and used a manual pump when my son was an infant. I felt like I was either feeding or pumping and had no time in between. I should have invested in something like this, because it gets more milk in less time. This pump is also designed to prevent you from hunching over so you don't get a sore back.
There are a few different pump settings, so you can choose the most comfortable one for you. Then when it is feeding time you can twist the bottle lid onto the container and voila. This is a fabulous way for you to get the nutrients of breast feeding into your little bundle of joy, but still be able to have help with feedings. This way, my partner and I were able to take turns with feedings and diaper changes so that I could get the rest I needed.
Toys R Us/ Babies R Us offer free shipping on orders over $49 on select items, and luckily this item falls into that category! So you won't even incur any extra costs that way.
(Expiry: 29th February 2016)