Most Popular Toy—Sophie the Giraffe For $24 @ Well.ca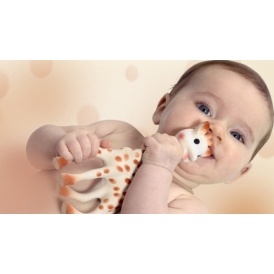 Okay folks, you all know about Sofie the Giraffe. Only every baby has one. In fact, my son had one from birth and kept playing with it until well into his second year.
These cute little giraffes seem to keep any baby happy, and their price is incredibly high for a squeaky teether. Not anymore! Well.ca has Sophie The Giraffe by Vulli on sale for a super price today—one of the best prices I have seen. Get your hands on the world's most popular teether for just $23.99, as opposed to paying $30+ at other retailers.
Sophie the Giraffe is great for your baby's sight, hearing, taste and touch. Not to mention it was the main thing that helped me survive the teething phases. Her long legs and neck are super easy for your little one to grip onto and she is totally soft to the touch (for rubber). I also read that the dark and contrasting spots make it easy for your baby to recognize their favourite toy.
This has to be one of the best baby shower gifts available—don't miss out!
Well.ca offers free shipping on orders over $29 so your best bet is to find another teething remedy for a few bucks to throw into your Well.ca shopping cart. They actually have quite a few great offers right now—even other Sophie by Vulli products that can go hand-in-hand.
(Expiry Unknown)