Isn't this awesome?! LulyBoo Baby Lounge to Go Now $55 & Free Shipping @ Babies R Us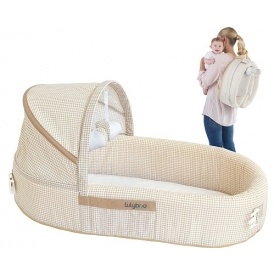 I was having a look through the Babyfest Sale at Babies R Us that I mentioned earlier, and I found this nifty item! If you travel a lot with your baby, or want a comfortable spot for them to sleep while you watch your shows then check out the LulyBoo Baby Lounge to Go! BabiesRUs.ca has it on sale right now from $69.99 down to $54.97. While the price is great, I think the convenience of this item is better. You'll even get free shipping.
I wish I had this when my son was an infant. I put a plush blanket inside his plastic bath tub for him to nap at a relative's house or at my feet while I folded laundry. This LulyBoo Baby Lounge to Go would have been more comfortable, and much easier to transport. Did you see how it can fold up?!
This Baby Lounge To-Go is not only comfortable and safe, but it will become familiar to your baby. So the more you use it at home or while you are out visiting, the easier it will be for them to fall asleep in it. When baby is done their nap, you can fold the wee bed back up into a light weight backpack - because we only have two arms, and they are needed for our little bundle of joy!
ToysRUs.ca offers free shipping to most areas on orders over $49, so hopefully you qualify for that as well. Otherwise I would opt for free in-store pickup since that seems to be available as well.
Moosers, what did your infant nap in when the crib wasn't near?

(Expiry: Unknown)