Intec Lazy Fish Sheltered Splash Pool $23 @ Amazon.ca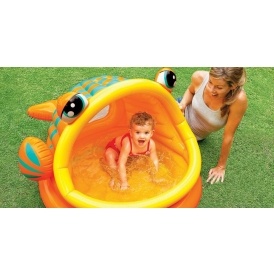 Water reflects the sun's rays and can be a risk for babies or infants who splash and play on a sunny day. Even the strongest SPF is no match for those reflected UVA/UVB rays.
That's what makes this adorable Intex Lazy Fish Inflatable Pool so great—it has a built in shelter! For only $23, after a 20% savings, this is the perfect splash pool for baby to cool down without the high risk of getting too much sun.
This pool has 6 inch walls and holds 14 gallons of water. It measures 49"L x 43"W x 28" H and is suitable for ages 1 - 3. More importantly though, it's amazing! Just look at it, what kid wouldn't go nuts for this thing?

Shipping at Amazon.ca is free with purchases over $25, so you may want to add on this tear free, water resistance, fragrance free Banana Boat Kids Tear Free Sunscreen Lotion for $8.50. You will be needing the sunscreen, anyway!
(Expiry Date: Unknown)