Buff Baby Dumbell Rattle $14 Shipped @ Chapters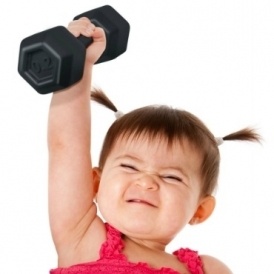 Omg. This has to be the cutest baby rattle I have ever seen. The Fred & Friends Buff Baby Dumbbell Rattle is available at Chapters Canada for $13.95 and today only, that will also include shipping. Not many Canadian retailers carry Fred & Friends products - so I was really excited to see it here.
The Buff Baby Dumbell is going to make your kiddo look so cute when they are playing with it. Or you can use it as a photo prop for newborn pictures or toddler pictures if mom or dad have a weight-lifting hobby. Turn your baby into a bench-pressing body-builder when your little one gets curious with the interesting rattle noise. You'll be impressed with how many reps or sets they can do! Work it baby!
This rattle is a tad bit less at Amazon.ca - but you won't get free shipping like Chapters.Indigo.ca is offering unless you're an Amazon Prime member. This product has no BPA, no phthalates, and is entirely safe for baby. Even if they insist on licking it.
Right now Chapters.Indigo.ca is offering free shipping with no minimum purchase - but that ends at midnight tonight! So don't hesitate on this offer, and grab the adorable Fred & Friends Buff Baby Dumbbell for your little one.