Taking an infant grocery shopping (or any other kind of shopping that involves a cart) can be difficult. There's not much room for the baby carrier in the cart and there's less room for groceries when the baby carrier is popped into the bottom of the cart.
So then what?
You can try to prop baby up in the seat portion of the cart that's designed for toddlers to sit in, but it's pretty clear that baby is just going to topple over at one point or another like a Christmas tree with too many ornaments on one side. Onlookers will be staring daggers at you even if their Johnny has ripped open a bag of Oreos from aisle 4 and is scarfing them down, unbeknownst to them because they're too busy pointing a finger at you.
Sure, you can put boxes of KD or soft puffy bags of air (posing as potato chips) around baby as additional support if they sit in the front seating section of the cart that's designed for toddlers. However, it's not as soft and comfy as this Binxy Baby Shopping Cart Hammock. This hammock is available in 4 different shades/patterns from Fab Baby Gear and is selling for $64.99. It's worth every penny.
Really, this is the only way to shop for groceries from now on if you have a baby. The Binxy comfy cart hammock quickly and easily clips onto most carts. It hangs elevated so you still have lots of room for groceries. You can roll it up to fit in your purse or diaper bag when finished.

I think this is probably one of the best inventions for a baby I've seen in a long while. It serves a wonderful purpose, is super helpful and puts baby in a good position to see Mom or Dad. It's certainly more sanitary than the shopping cart seat.

Most infant car seats sit snugly inside the Shopping Cart Hammock and can be secured using the included safety strap.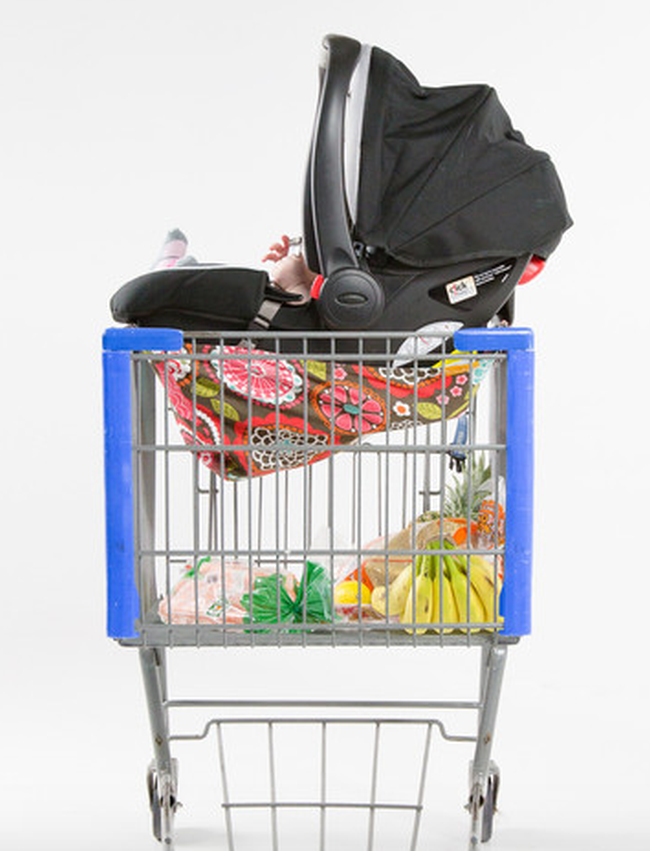 The Binxy comfy cart hammock meets or exceeds all applicable safety standards. Here's some more info. about it from their website:
Product can be used from birth until a child can sit upright unassisted, up to 50 lbs. Always fasten child securely. Never leave child unattended. For use on standard size, metal and plastic shopping carts 20-24 inches wide.
Shipping is free if you spend over $75, (some exceptions apply) otherwise will range from $12 - $15 for most Canadians. You can check out the shipping fees here.