Babyfest Sale @ Toys R Us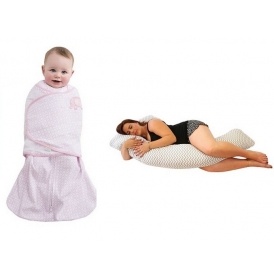 Toys R Us is having a huge Babyfest sale. I looked through the sale items and am impressed with the variety and pricing. I've focused on some of the sleep items because sleep is sooo important.
This KidiComfort 7th Heaven Pillow looks exactly like it would be heavenly just as the name refers to. How relaxing is it to have a soft pillow to basically encapsulate your entire body with such soft and supportive care?
Body pillows like this rarely go on sale, and this one is selling for $52.47 down from $69.99.
This Halo SleepSack will let your baby sleep like an angel. It actually does stop that startling effect that babies have. If their hands can't flee upwards into the air as they're sleeping, they generally won't wake themselves up and that is a good thing, well worth the $26.17 sale price. The regular price is $34.99.
This sleep sack is the only 2-in-1 adjustable swaddle that allows for swaddling arms in or arms out for baby's comfort.
Once baby grows a bit older all too fast, this Babies R Us Swing Down Rail Bed is a popular product for toddlers. Every home with a toddler could use one, and you might want to grab one for when you go to Grandma and Grandpa's house. It's on sale for $17.47 down from $34.99.
Be sure to check out the entire sale in the top link. There are some great prices on other baby items that you need, too.
Shipping varies, depending on the quantity, weight, and size. It also varies according to location. You can opt for the free in-store pickup option if it's available to you. As always with Toys R Us, some toys can be shipped to the home, while others can be ordered for free in-store pickup (which can often be picked up in 2 hours or less.)