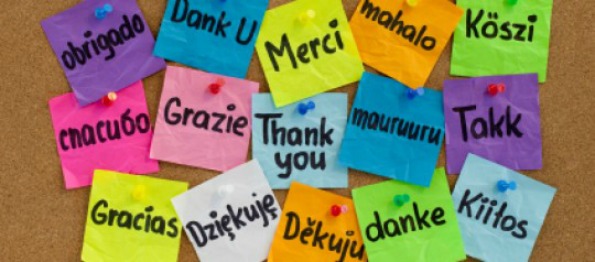 One of the more common New Years' resolutions is to learn a new or different language. Although English is a pretty accessible language, it doesn't get you everywhere, especially if you travel for business or travel for fun and like to explore different countries. Many people want to learn Spanish, French, Japanese, or even Chinese. As children, it is easy to learn languages but as we get older it can be increasingly difficult. According to Forbes.com this critical period is at around four months of age.
If you've missed that boat and are still interested in learning, here are a few tips to learn a different language on the cheap (or even for free).
#1. Take a Course
Many universities or local community centres usually offer a continuing education course that meets once or twice weekly for language lessons. Usually these are very reasonably priced, especially if you are doing it through a local community centre. Expect to pay around $120 for a course that spans three months. The great thing about taking a course is that you get to be connected to your community.
If you are over 60 or know someone who is, take advantage of the free language courses that are offered at the university. In certain universities in Canada, for anyone who is over 60 you have access to free university courses that are with credit. The downside to university classes is that they are usually offered during the day. Another reason to aim for early retirement! :)
#2. Immerse Yourself
Probably the most expensive way (but in a way cost effective) is to immerse yourself in the country that you want to be learning the language in. Language courses taken in the country of destination (especially if you are learning Spanish in Latin America for example) is intensive (expect Monday to Friday classes for a few hours each day) but you can expect to see quick results. Language courses in Peru, for example, can be about $100 USD a week (20 hours per week) depending on which language company you use. In addition, you may be able to choose an option to Home Stay with a family in order to immerse yourself even more and reinforce the learning you did at school. Although this is the most expensive option, it is the option that combines great memories, great adventures, and meeting people from a different country.
#3. Go Online
There are many ways that we can learn a different language online. For example, Rosetta Stone, long regarded as the leader in language do- it-yourself classes, costs about $300.  If you don't want to spend that much money, there are many other websites that are available that are free or cost next to nothing (though you might not see the same results).
For example, a few online websites that help you learn are:
Skype - Yes, Skype has a forum to exchange language learning and connect you with people from around the world.
LingQ - Another online community linking you to others around the globe to practice. The difference with this, is that they give you mp3 downloads of language lesson content. It's free to sign up but beyond the basics, you'll need to pay if you want to do more advanced stuff.
#4. Join a Meet-Up Group
A great way to solidify the information that you learned in your language course is to join a meet-up group.  If you don't use it you lose it.   That adage rings true especially when it comes to languages.
Joining a meet-up group is free. Just go to www.meetup.com and check for groups in your area. It is a great way to meet new people, make new friends, and most importantly, practice the new language you have learned. Alternately, there may be options in your city to meet up with individuals who are interested in learning English in exchange for learning their language. Not only will you be learning a new language, you also get satisfaction in knowing that you are helping someone learn English.
As you can see, there are numerous ways to learn a new language. They say that a great way to approach "life" is to have the perspective that we should never stop learning. Research has shown that being able to interchange between two languages helps delay the onset of dementia by 4.3 years. It is great to want to take that first step in learning a new language. Therefore, despite the potential high cost of continuing to learn a new language, preventing the onset of dementia in the future can be priceless! Also, if you're learning for business and to expand your professional career, that's priceless too!
Bargainmoosers, do you have other tips on how to learn a new language on the cheap?