InkyDeals: $1635 Worth of Image Resources for $69 + $5 Coupon + Free Trial Worth $42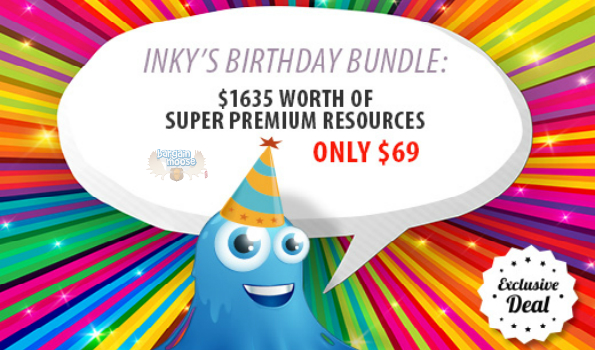 This may be the highest monetary discount we've ever had on the site. Check it out at InkyDeals and, while you're at it, tell a friend.
I'm serious about that tell a friend thing. We're talking about artist stuff here and if we're to believe the 'starving artist' thing, $1635 worth of artisty things for only $69 is food for months. That's $1566 worth of savings that you can eat. So what do you hungry painters get for your money? This:
203 unique badges from 11 different categories in .Ai, and PSD formats.
Thousands of graphs, charts, diagrams, icons and other elements available in .Ai and .EPS files.
Hundreds of modern flat vectors in editable .Ai and .EPS files.
102 vector logos with hundreds of additional elements that you can combine.
128 highly detailed vintage ornamental vectors and PS Brushes.
140 top-quality vector illustrations from 7 different categories.
An extended royalty license, allowing you to use these resources in an unlimited number of commercial projects and even in merchandise for mass distribution.
200% money-back guarantee. If these elements don't rise to your expectations, you get your money back and also keep the source files.
Now I'm not mathmatologician (and neither are you BFA) so I can't add 213 + 102 +128 + 140 + Hundreds + Thousands but it sounds like you're getting whole bunch of stuff. On top of that you're getting a special license and 200% money back guarantee if you don't dig. Y'dig?
If y'(don't)dig then you can get $42 worth of badges, vectors, brushes and illustrations for free. All you need to do is tweet the sale of or share it on Facebook.
Still don't dig? Well, you need a shovel. Or $5 off with coupon code INKY2013.
(Expires: 2nd November 2013, 7:00AM ET)