Let's face it: life can be super hectic most of the time. Some days, I wonder if I am developing memory problems because I completely forget do to things if I don't write it down. I have note pads/ calendars/ day planners and my iPhone to keep me on track, but sometime's a girl's gotta get a little extra help.
Free help (which is always good in my books).
These 4 free useful time organisation apps are available for the iPhone, I'm not sure if they are available on Android or Blackberry, but I hope they are because they are awesome.
I love my iPhone and couldn't live without it (in fact, I paid almost $200 in UPS shipping costs to get my iPhone 4 back from Bali, Indonesia when I accidentally left it there in a taxi… yes… extreme I know!)… but I don't use the calendar function. At all.
For some reason, the little 'dot' marking something significant on that day when looking at it from the monthly view doesn't cut it for me. I don't like clicking, clicking, clicking to find out what is the plan that day and I like to look ahead. That's one of the reasons why I still carry around those day planners every where I go (my friends tease me but I don't care).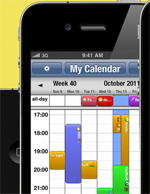 PocketLife is a free app and it's easy to use - it's a calendar app for people who like a visual calendar and don't like seeing a gray calendar interface with dots symbolizing work, yoga class, or doggy daycare.
Unfortunately it's not 100% free. To get the full version you need to pay, but the lite version is still fully functional but you can't add all the different types of events (e.g. tennis, yoga, work etc.) that you would be able to add with the full app.
If you don't like emoticons, then this app isn't for you because it's emoticon central!
This one's great because my partner and I wake up to go to work at different times and I hate waking him up with my iPhone alarm (there's no vibrate only option it seems- or at least I never figured out how to work it in the 2 years I've owned one).
With this app, you have an option of having a fade-in sound instead of blaring, obtrusive sounds. You also can use your own favourite music to wake up to (who wouldn't wake up on the right side of the bed with an option like that, eh?). They also give the option of waking up to a different playlist the next morning.
They also have a "Nag-Me" feature that auto-repeats reminders in the interval of 1 minute to 1 hour until you acknowledge the feature. I should probably do this to my partner's iPhone – that will probably cause a stir LOL.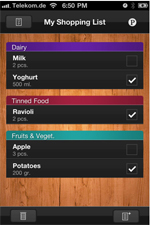 You probably already have this one (since this has almost 2100 ratings from the App store already) but it's great for shopping. I absolutely hate it when I am at the grocery store, finish buying the stuff I need. Get home. Then realize that I forgot to buy bananas. This is even with a grocery list stuffed in my pocket.
I've been trying to get more organised by meal planning for the entire week and shopping ahead for the week (e.g. if I need to buy cilantro it doesn't last very long so I can't stock pile it like I can with meats in my chest freezer).
The great thing about this app is that you can write down how much you need (e.g. Potatoes, 200 grams). You can also calculate the total amount of how much your grocery excursion will cost too (provided you look the prices ahead of time because you use the flyer, of course, right?). The only downside to this app I can think of is that you can't add in coupons to check the total price of your grocery bill. ;)
Okay, this is obviously not a time organisation app but it is free and I do use it very often. When life gets way too hectic, I need to retreat and zone out, or I need music to listen to that won't distract me when I'm studying or writing articles, I click on this app. (Since time of writing, this one is now $0.99!)
It instantly transfers me to a peaceful place and transforms my mind from constant worrying to a calm state.
Make sure you run this app when you have Wi-Fi and NOT on your cell phone data/ 3G! Otherwise you'll receive a very large cell phone bill and your peaceful zen will surely dissipate.
On this app, there are about 20+ online radio stations that you can choose from with calm, peaceful music. Sometimes the radio stations are hard to pick up, in which case, I always just pick another one that works. My favourite one is Calm Radio - you just need to zone out when the ad comes on asking you to subscribe to ad-free Calm Radio. ;)
Speaking of calmness - I'm very happy to have these apps on board my smart phone. I'm even happier that they're free to download. Without these apps, I know that life will be much more stressful than it is now. As you all probably know very very well, time organisation is key to running a 'tight ship' and key for all busy women.
Do you have some great apps that you can't live without and would recommend to other Bargainmoosers (apart from the Bargainmoose deals app of course!)?

(Image credits: Earls37a)