Zagg Invisible Shield 30% Coupon Code!
Need an Invisible Shield for your iphone?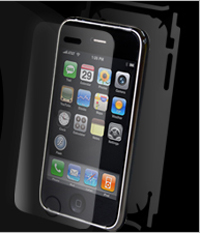 Where: Online @ Zagg.com
What: 30% Discount
Coupon Code: TAXRELIEF
Expires: 21st April 2009
Zagg are world famous for their InvisibleShield ranges of protection for your portable devices, likes iphones, cellphones, mp3 players, etc. You can put in your model on their website and see if they make the invisible shield for you. They are really handy because they protect your electronics from scratches and dent, without having to use a big ugly case for them. For the likes of the iphone, a full body invisible shield will set you back $25US, but it's well worth it. Here's a comment from Mobot.net:
I have used Zagg shields plenty of times and I thoroughly recommend them.
Regarding shipping costs from Zagg.com, I tested it out for the iphone invisible shield, and it was only $2, by USPS to Canada, which is really excellent.
My OH recently got a new HTC Touch cellphone. It's a really gorgeous handset! He ordered the special invisible shield from Zagg, and it arrived really quickly! We were very pleased with the service. He stuck it on the mobile phone, and it looks grand. A few months ago, he also got a little Creative Zen mp3 player, got the invisible shield to protect it too. :)