Zagg Coupons: How To Find Them! (TIP)
A while ago I made a post about Zagg invisible shields. Since then, I've noticed a few ways to get extra discounts and coupon codes for them, so I thought I'd share the ideas in another blog post.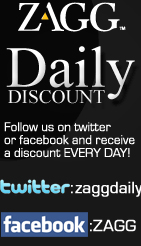 How to get Zagg coupon codes:
Register with their email newsletter – this is how I received the last 30% promo code from Zagg.com. They send out special offers by email, so it is worth joining the mailing list if you plan on buying one of their products in the near future. Of course, if there are any particularly good coupons, I'll blog about them here on BargainMoose too.
Just google for discount codes

– you can sometimes find a good code in this way, but it can be time consuming to find a working voucher code.
Join the

Zagg Facebook group – You might have to be logged in to Facebook to see the Zagg group. From time to time, they post a coupon code on their wall, giving a percentage discount to the first X users. If you're planning on a Zagg purchase, just keep an eye on their wall for a good discount. They've been known to give out 50% promotional codes in the past, so it could happen again!
Follow

Zagg on Twitter – Similar to the Facebook one mentioned above, Zagg tweet some useful promotion codes for extra discounts. Again, they are only usable by X number of members, so you have to keep a close eye on their twitter page. You could even follow me on Twitter while you're there!
As mentioned in the last blog, Zagg are US based, but ship worldwide (including Canada).
Seems like Zagg make really good use of social media to bring us excellent bargains!