VicTsing Essential Oil Diffuser Now $39 Shipped @ Amazon.ca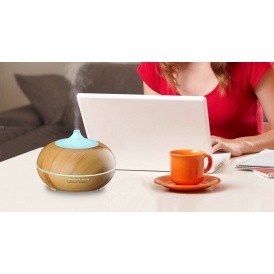 Quick folks! These essential oil diffusers seem to be all the rage, and when they go on sale they never last long. Right now you can score the VictTsing Essential Oil Diffuser Humidifier Wood Grain 300ml on sale at Amazon.ca for 61% off the regular price—which leaves you paying $38.99 including shipping.
This is a Lightning Deal and it is already 10% claimed! They never last long at prices like this, and I really like the look of this diffuser. The light for the lid and middle band even has seven different colour options.
Using an essential oil diffuser is rather simple actually. Grab an essential oil of your choice (my fav is lavender), then take off the lid, add water and the desired amount of your essential oil. Different essential oils can help your life in different ways with aromatherapy, so you may want to do a quick read up on that as well. Lavender is calming, and great as it gets close to bedtime in my house.
Amazon offers free shipping on orders over $25, so your shipping is included with this purchase which is just another bonus to the already awesome price.
(Expiry: 12th April 2016)