Firmoo: Summer Sale - Up To 80% Off Glasses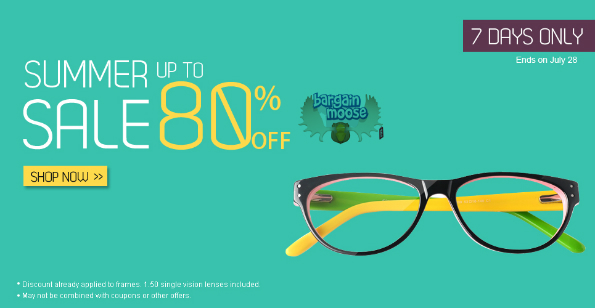 Get a full pair of glasses or prescription sunglasses for up to 80% off at Firmoo.
I've gone on and on and on about Firmoo in the past, so I'm not going to this time. I'm just going to leave it at this: Firmoo is awesome. Super-fantastic, even. Amazing prices for good, fashionable glasses. You can get anything from super cheap plastic glasses right up to memory metal, and pretty much any style you could ever want. Want some glasses for your 97-year old polish grandmother? They've got something for her. Does your hipster husband need some new glasses to keep the wind out of his eyes while he drives his fixie? Or, maybe you need some sunglasses. Firmoo has it all.
Right now you can get a ton of their glasses for up to 80% off. Some of them are as low as $7. On the high end they are only $39. That's amazing when you consider that traditional retailers can charge hundreds of dollars just for frames. No lenses.
Speaking of lenses, you can get all kinds of upgrades on your lenses. Thinner, anti-reflect, bi-focals, anti-radiation, tinted, progressive and on and on and on.
I will warn you, though, that shipping on these things is fairly slow since they're coming straight out of a factory in China. Cost depends on where you are and how many you get, but it is generally around $10 for me.
(Expires: 28th July 2013)