ClearlyContacts Coupon Code: $40 Off $100 & Free Shipping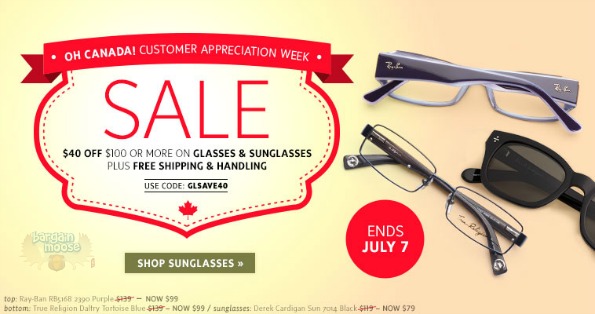 Clearly Contacts has released a big coupon code to celebrate upcoming Canada Day. Receive $40 off your order of $100 of glasses or sunglasses and receive free shipping and handling.
Click here to shop glasses @ Clearlycontacts.ca now
Coupon Code: GLSAVE40
Discount: $40 off $100 + free shipping
Expiry: 7th July 2014
This is the biggest coupon code I have seen out of Clearly Contacts for a while. It makes me want to buy a pair of sunglasses even though I have a spare set stowed away for a sunny day. These Giorgio Armani GA962S 807 Black 51 were $139 and are now on sale for $109.99. After coupon code, they come down to $69.99 with free shipping and handling. This is such a sweet deal for these fantastic glasses.
I also think these Balenciaga BAL0103S 7C5 Black Crystal 56 are just amazing. I'm not sure they would look good on me but I know so many women who could just rock these sunglasses out of this world. Originally $179, they are now on sale for $139.99. After coupon they come down to $99.99. I really like the way the clear and black parts of the frame contrast with each other.
At first, I thought the free shipping and handling was a big benefit. When I bought my husband's glasses from Clearly Contacts, $10 to $15 was just shipping and handling fees. However, Clearly Contacts now offers free shipping and handling on all sunglasses and glasses so this is a bit of a red herring. This is a new thing so it is still a nice offer.
If you wear contacts then there are two other coupon codes for this weekend that you will want to know about:
Coupon Code: CLSAVE10
Discount: $10 off $100+ contact lens order
Coupon Code: CLSAVE25
Discount: $25 off $200+ contact lens order
Codes cannot be combined with each other and contacts do not receive free shipping or handling. Shipping would be $9.95 for contacts.
I have been lucky with my eyes; while both my parents wear glasses and my husband wears them as well, I have not needed to get them for myself. While I love the look of glasses and actually look good in them, it does save the added expense. I once tried to buy glasses for my husband in store and they were going to cost around $400 - $500 a pair. The cost of glasses, even with some coverage through work, can really add up so I am glad when deals like this are available.
Don't forget to check out the Clearly Contacts coupon page for future discounts.