AllerMates Kids' Health Alert Bracelets $9 @ Well.ca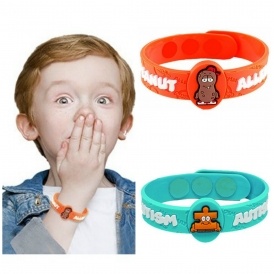 Do you have a kiddo with an allergy or other health condition? Maybe it's an allergy to peanuts or dairy or, perhaps, asthma or epilepsy. Whatever the case, I'm sure you want to educate and protect them from harm. Well, AllerMates are here to help!
AllerMates were created by a mom whose son has severe food allergies as well as asthma. In an effort to teach him about his health concerns in a fun, non-intimidating way, she drew up characters and wrote funny stories and poems. The kids helped her come up with silly names for them and, so, AllerMates medical alert bracelets and charms were born!
Each adjustable, colourful and kid-friendly alert bracelet is free of BPA, phthalates, nickel and latex. They're $8.99 each.
Well has the following Allergy Awareness Bracelets:
And the following Medical Alert Wristbands:
Also available is the Multi-Charm Wristband Pack for $17.99. Made to fit up to 6 different AllerMates Medical Alert charms, this wristband pack comes with the common food allergy charms of peanut, nut, dairy, egg, and wheat, as well as the health condition, asthma. Charms can be added, rearranged or removed to change the bracelet as your kiddo's needs change. (There is also an I Have Allergies band that is currently out of stock.)
I think these wristbands are a fun way to teach your little one about their health while keeping them safe. What do you think?
Well.ca has a free shipping threshold of just $29, otherwise, shipping is $5.95.