June 21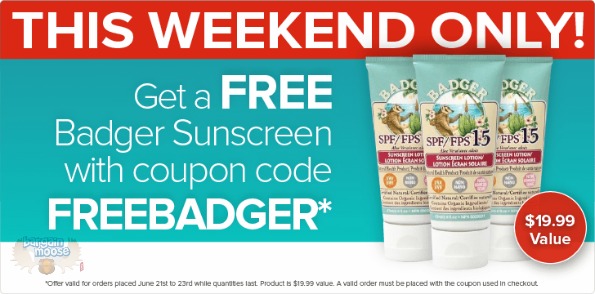 When you make a purchase at Well.ca this weekend make sure to add a Badger Sunscreen to your cart and then apply to following coupon to get it for free. The free badger sunscreen with any order has a monetary value of $19.99!
Click here to select the Badger Sunscreen @ Well.ca now
Coupon Code: FREEBADGER
Discount: free sunscreen
Expiry: 23rd June 2013
You are eligible for this offer with any valid order that includes the sunscreen and something else. I suggest about $25 worth of something else to qualify for the free shipping. With having said that, here are a few other deals on this weekend you might want to try out:
We just moved into our new home in Nanaimo, BC and one thing the movers won't transport is cleaning supplies. So, we need to buy some new ones immediately. I want to get the Lysol Power & Free Multi-Purpose Cleaner that was $4.49 and is now $3.59. I like that it doesn't use bleach which is a pretty harsh chemical. Rather it uses hydrogen peroxide.
For this and all other Well.ca coupon codes just visit the forum.