April 23
I just managed to nab one of the $75 coupons from the Old Navy Weekly coupon hunting session!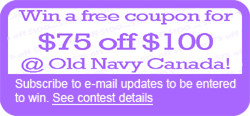 Instead of lavishly spending it on myself, I think I'll give it to one of you lucky readers!
To be in with a chance of winning this discount coupon for Old Navy, please subscribe to the Bargainmoose email updates. (Make sure you click the verifiaction link in the email too!) If you are already subscribed, then just post a comment below to enter. Be sure to include your accurate email address, as I will email you with the printable coupon.
The coupon expires on the 30th of April 2009, so I will choose a winner on the 28th and email you that day, to give you a day or two to spend the coupon!
If you're not in you can't win!
Winner Announcement
I've chosen a winner using a random number generated by random.org, and the winner is NASH who co-incidentally was the first to comment below!!
Well done Nash! Spend it wisely – emailing the coupon to you now!