November 16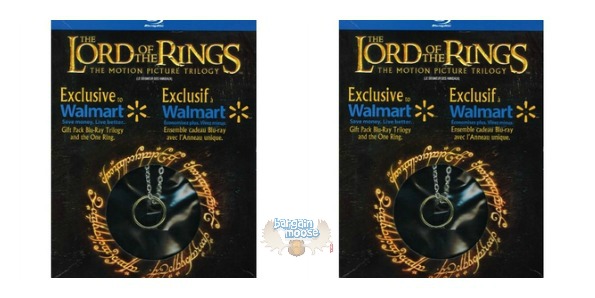 Walmart Canada has the Lord Of The Rings Blu-Ray Trilogy set with ring on sale for $25.93.  This sale is a Walmart exclusive.  Offer is valid for a limited time only while supplies last.
This is an absolute must for all the Lord of the Rings fans out there.  I have a set, but not this one and certainly not the ring.  I know that every fan, including myself would love to receive this under the tree.
Who can forget the 1st movie, The Fellowship of the Ring, where Frodo starts off as a young hobbit thinking of nothing more than his home and surrounding Shire.  He suddenly inherits a ring and is off on a quest against evil.
Then we patiently awaited the 2nd movie, The Two Towers, which was the same quest, with many twists and characters going their own way.  I love that amazing battle at Helm's Deep and Legolas reminding me of Link from Zelda.
At last we have the conclusion, The Return Of The King where everyone prepares for the final battle for Middle Earth.  There are some awesome battles in this one as well, although the scenes with Frodo and Sam tend to run on, but the movie was worth the wait.
Check out Walmart's other movie sets available as well.
Shipping: Free for most items.
(Expiry: Limited time only)