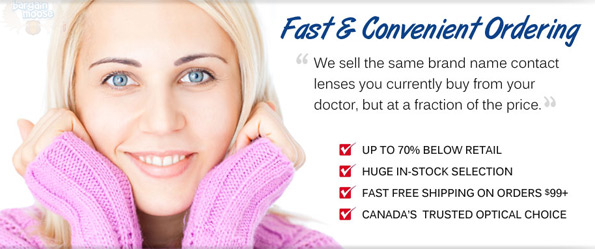 If you're a new customer at the online optical store Visionpros.ca, you can get a $10 discount and free shipping on your first order of $149 or more. Here are the details:
Click here to use the Visionpros coupon code online
Coupon Code: WBNEW
Discount: $10 off $149+ & free shipping
Expires: Unknown
Visionpros recently won an award in Moneysense magazine – they're rated as Canada's best contact lens retailer. Prices are really competititve and with extra coupons like these, you can hunt for the best deal.
If you've never before bought contact lenses, the recommended process is to go to a local optician and get tested and fitted, get kitted out with certain brands and the optimum solution to use with them. You can see if dailies or monthlies suit you better.
I regularly buy my contact lenses online in 6 monthly batches, as I use monthly disposables. I like using the monthlies as I can just pop them in and out when I am out and about. And I don't need to worry too much about taking care of them as I just pop them in their solution at the end of the evening. But everyone's different… my brother in law prefers the daily disposables as he would only wear his contacts when he has a basketball match or is doing something where his glasses would get in the way.
Do you wear contacts? What do you prefer – dailies or monthlies?