August 27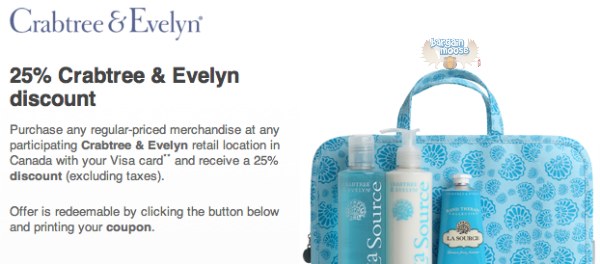 Recently I mentioned how LouLou has teamed up with MasterCard to bring you fabulous deals for the next month. Well if you have a Visa card, don't feel left out. Visa has awesome perks all the time. Check out some of these deals I found from Visa.
Right now they have a fabulous printable coupon to receive 25% off your purchase (regular priced) at Crabtree & Evelyn!
The C&E store locator is useless because it only lists 1 location in London Ontario, and yet I have seen them in BC and in the mall that is 15 minutes from me! So my suggestion is contact admin@crabtree-evelyn.ca if you need to find a store or just google it.
This is one of the highest discounts that VisaPerks offers – and it is fab. You are essentially making your own sale from regular priced merchandise just buy paying with your Visa.
Coupon expires 31st, October 2011