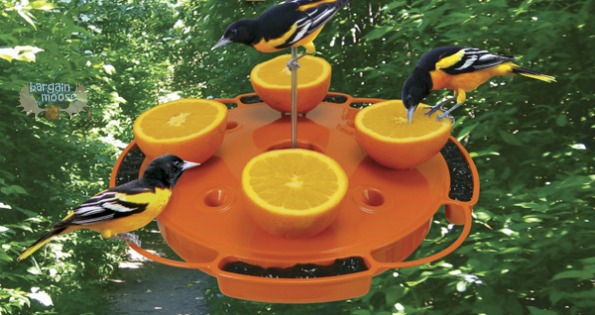 Veseys Canada has an awesome promotion on right now where if you buy a web exclusive just arrived item from their online store, you'll get a free corn, suet and nesting feeder, with promo code.
Click here to shop @ Veseys.com
Coupon Code: CFB13
Discount: Free Bird Feeder With Purchase
Expiry: Unknown
Right before I began writing this post I was looking out my back window and noticed a squirrel for the first time in my neighbourhood. Being a fairly newly constructed neighbourhood, we don't have many trees and we don't see many squirrels. Then I noticed why it was in that neighbour's backyard – it wanted to get into the bird feeder where two birds were having a lovely time. I then thought that I too should get some bird feeders to attract some wildlife to my backyard since the lack of trees doesn't do much in that way.
The free feeder you will get is great for holding suet balls and corn. You could also put lint balls from your dryer into it, giving birds nesting material in the spring.
Along with the free feeder you could add a Butterfly Feeder. Mimicking real flower blossoms, butterflies are attracted to fresh fruit and nectar, which you add to the feeder. Includes a coated wire for hanging. $13.95.
This Red Spiral Peanut Feeder is great for all sorts of birds. Squirrel-proof and with a lifetime warranty, this durable feeder has many spots for birds to grasp on and eat. $29.95.
If you already have a feeder and are tired of the spilled seeds on your lawn, add this 24″ Seed Hoop, which catches up to 90% of the spilled seeds. It easily straps to almost any feeder and it also provides another feeding level for birds like cardinals and juncos. $22.95.
Shipping depends on what you buy and where you live.
Check the Bargainmoose forum for more Veseys coupons.