November 20
If you are making a footwear purchase @ Town Shoes in the next little while, don't forget to take this coupon with you!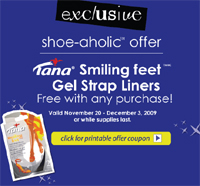 The coupon entitles you to a free set of Tana Smiling Feet gel strap liners with any purchase, and no minimum spend! It is valid until the 3rd of December 2009.
I have never used these gel liners in my shoes, but I heard they are good. I know sometimes I am in agony after a night out in heels, so do you think these help?