September 24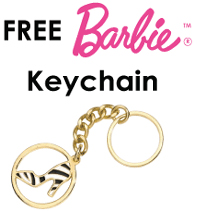 I'll add this little Town Shoes coupon to the blog. It's for a free Barbie keychain if you are spending $50 or more in-store.
Obviously, it's not worth going out of your way to spend $50 just to get this keychain.
But if you were going to buy some new shoes there anyway, then you might as well bring the coupon with you to claim your little freebie.
I'm not quite sure what makes it a Barbie keychain though – maybe it's branded on the back with Barbie?
Expires 15th October 2009.