March 23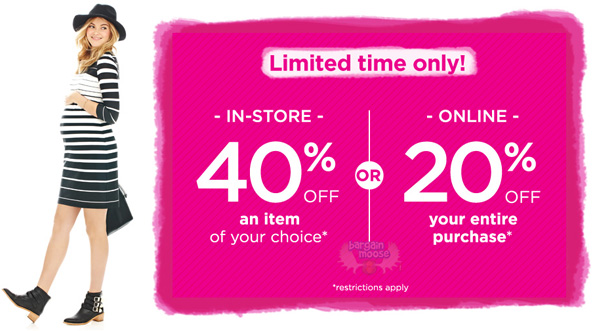 The time has come to go on a shopping spree and show off that baby bump in some new clothes just in time for the warmer temperatures because for a limited time, you can either save 20% off everything by shopping online at Thyme Maternity or using the printable coupon below when shopping in-stores to get 40% off any one item.
Click here to shop @ ThymeMaternity.com now
Print your 40% off any one item coupon here
Coupon Code: THYMEFB20OFF
Discount: 20% off
Expiry: 13th April 2014
If you have a bun cooking in the oven, then comfort is key. I can't even begin to put into words the relief I felt when I switched from my regular jeans to maternity ones with a belly panel. I must admit though, that it took me awhile to finally switch because I thought I could get away with looping an elastic through the buttonhole in an effort to save money but the biggest factor to consider is that while 9 months (or more precisely, 40 weeks) may not seem like much at first, it's actually close to a year of getting bigger and bigger, and not to mention the fact that since you're so intently focused on the changes brought upon each extra week, it seems like it takes absolutely forever for the baby to come out.
So even if you get 1 pair of jeans and a couple of tops, that's already much better than being uncomfortable and being stuck wearing your significant others' oversized clothes. Plus, if you shop online at Thyme Maternity, you can also use the code to save even more on sale items. Although limited in size, you could for instance get the cotton nursing bra with lace at just $7.50 instead of its sale price of $9.99 (reg. $39) — pretty enticing isn't it? Just make sure to hit the $100 minimum threshold for free shipping to avoid any pesky fees.
On the other hand, if you're nearing the end of your pregnancy (like me, for instance), I would advise to use the printable coupon in-stores instead to save on the cost of a nursing bra. Just last week, I was shopping for a lovely dress to wear to my maternity photo shoot and was shocked by the prices on nursing bras as they range anywhere from $35 to $49. There is actually a special going on right now for "buy 1, get 1 at 40% off" on all nursing bras and while it stacks with the Thyme Maternity promo code above if you use it online, you would have to check in-stores to see if the printable works alongside it as well (make sure to post a comment if it works for you).