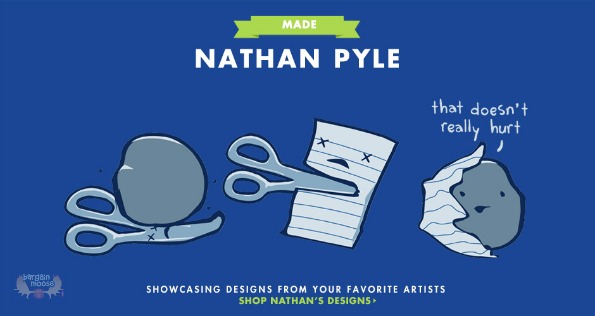 Threadless is offering free worldwide shipping (that includes Canada) when you make a purchase of $75 or more. They also have an end of season sale with tees starting at just $9.95!
Click here to shop @ Threadless (US) now
Coupon Code: SHIPFREE
Discount: free ship with $75 purchase
Expiry: Unknown!
Kids stuff is also on sale starting at $9.95! All prices are in USD, as Threadless is a US website of uber awesomeness.
The first thing to point out is that the kids stuff is wicked cute, and if you have kids (which I do not) you should seriously check out some of the cute onesies! Discover Yourself was $18, is now $10.99 and is just adorable. Not only will people come up and say "OMG you have such a cute baby!", they will also come up to you and say "OMG your cute baby is wearing the cutest onesie! Where did you get that?!?".
For us less cute adults, we need awesome shirts. I nearly died when I saw this Duck in Training and am so sad it is sold out in my husband's size! My husband collects ducks: stone ones, wood ones, ash ones, ceramic ones, and even ones on coins. My husband also can't swim… so his duck collection has always puzzled me. I would love to get him this shirt. I wonder if I got it for him in a girl's size equivalent to the male size if he would notice. What do you think? Either way the shirt is only $9.95!
For more Threadless Coupon Codes, visit the Bargainmoose forum!