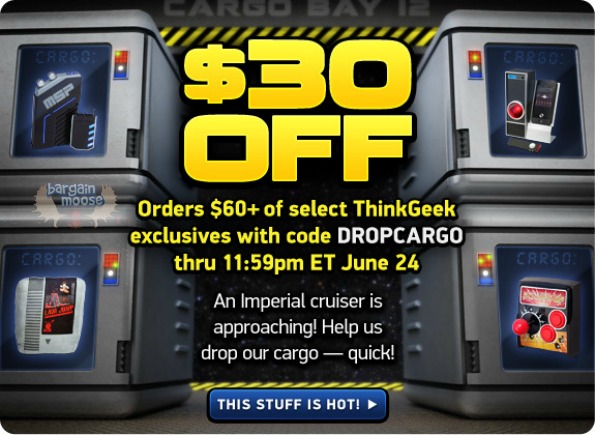 Think Geek has a couple great coupon codes to use this weekend depending on what little geeky things you are shopping for. You can get $30 off $60 on select items they are trying to clear out – what a huge coupon! They also have a free infectious disease stress ball with any purchase of $40+ if you are shopping for other items.
Click here to shop @ ThinkGeek.com now
Coupon Code: DROPCARGO
Discount: $30 off $60 only valid on these items
Expiry: 24th June 2013
Seriously, the coupon is only valid on these items through that link. Don't go trying to get $30 off $60 on just any purchase. The great thing with this coupon is some of the items it is valid on are also already on sale! They have a selection of six different shirts that are already 20% off their original price.
If you are shopping for other geek stuff or the huge massive clearance sale I blogged about here, try using this coupon instead.
This free gift is worth $4.99 and makes an excellent gift for your boss or coworker. Personally, I think it is disgusting and thus would only give it to a boss or coworker I did not like. Though for some reason men usually find things like this cool.
All prices in USD. Shipping depends on what you are buying: How big, how much, where it is being shipped to – you know the drill. You may be subject to duty/customs.
Check the Bargainmoose forum for more Think Geek coupons.